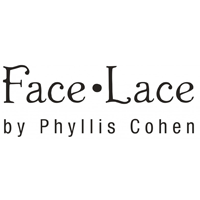 Face Lace
Peel off, stick on and and show off!
Turn any face into a masterpiece with these beautiful designs that are easy to use. The concept of Face Lace came from a professional need and artistic challenge to create elaborate makeup designs that can be applied in seconds, look precise, are symmetrical and stay perfect until they come loose. After the launch in 2012, Face Lace became a direct favorite among makeup artists and members of the general public who wanted dramatic, yet flawless makeup results.
It has been used for rapid changes in some of the most popular TV shows such as Strictly Come Dancing, X Factor and The Voice. Creative, show-stopping entertainers such as Lady Gaga, Paloma Faith and Nicole Scherzinger have worn Face Lace. Face Lace has been on social media since 2012 and was also worn on the catwalks during London Fashion Week. Time Out magazine mentioned wearing Face Lace as one of the essential elements for Halloween lovers.