Step 1
Mix the base color Aquacolor 8ml (508) with water and work into a creamy consistency. With broad vertical brush strokes, draw lines along the jawline, top lip, cheeks, through the eyebrows, forehead and lastly close to the hairline. The lines do not have to be perfectly symmetrical.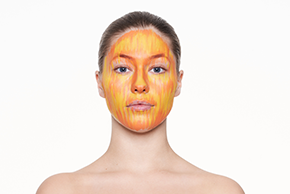 Step 2
Using the accent color Aquacolor 8ml (509) mixed with water, apply fine lines into the spaces between the Aquacolor 8ml (508).
Use a layering technique to build the color and to highlight the high points of the face. The eye lids and lips can be left unpainted.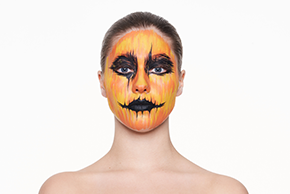 Step 3
Aquacolor 8ml (071) is then applied to create haunting eyes and lips. With fine brush strokes, working vertically and horizontally, frame the eyes with sharp layered lines. Color the lips completely and then drag the product out at the corners of the mouth and draw sporadic points from the lip line.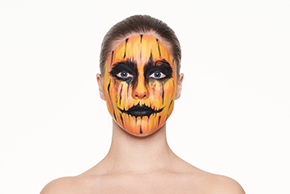 Step 4
Draw broken lines moving vertically down the face using Aquacolor 8ml (071). Twisting your fine brush as you apply it will create a more interesting texture. To add shading, Eye Shadow Matt (black) is then blended over all the lines created in Aquacolor 8ml (071).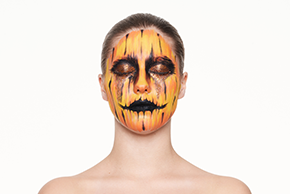 Step 5
With the eyes closed, carefully apply a fine layer of Multi Gel Glitter 10ml coarse (copper) to the eyelids, allow to dry before opening the eyes.
Then use 'Copper' Multi Gel Glitter underneath the eye and graduate the application down the cheeks into a point.
Step 6
Unevenly highlight next to some of the black lines using 'Copper' Multi Gel Glitter (coarse). Taking the second color Multi Gel Glitter 10ml coarse (black), press into the socket line of the eye detail and apply small amounts to add contrast to the edges of the copper glitter detail.
And tada! Painted to be a pumpkin girl!
PRODUCTS WE USED:
Kryolan Aquacolor 8ml  508
Kryolan Aquacolor 8ml  509
Kryolan Aquacolor 8ml  071
Kryolan Eye Shadow Matt Black
Kryolan Multi Gel Glitter 10ml Coarse Copper
Kryolan Multi Gel Glitter 10ml Coarse Black
Written and created by Kryolan / Leanne Simmons